Walkie-talkie found – new evidence after three decades
http://media.stocklassa.com/2019/04/DSCF2457-30.jpg
1655
1184
www.stocklassa.com
http://media.stocklassa.com/2019/04/DSCF2457-30.jpg
For the first time in several decades, the police have received new technical evidence after a series of circumstances that feel almost straight out of a Stieg Larsson novel. On March 2, 1986, two days after the assassination, a group of young men walked by the stairs on Jutas Backe, a few hundred meters from the scene of the murder in the direction of the killer's escape route. One member of the group noticed a walkie-talkie next to the railing and picked it up. The young men were more focused on beer, rock music, and women than on the Palme murder and instead of turning the walkie-talkie over to the police they gave it away as a birthday present.
When Jan Stocklassa heard this story from a friend two years ago, he didn't manage to get anywhere and put it to rest. Recently, he decided to try again. A series of phone calls later and one of the members of the group was on his way to Stockholm. He brought the walkie-talkie with him, a walkie-talkie that was very likely used in connection with the assassination of Olof Palme. The Swedish police have confirmed that they are trying to extract as much information as possible from the new evidence.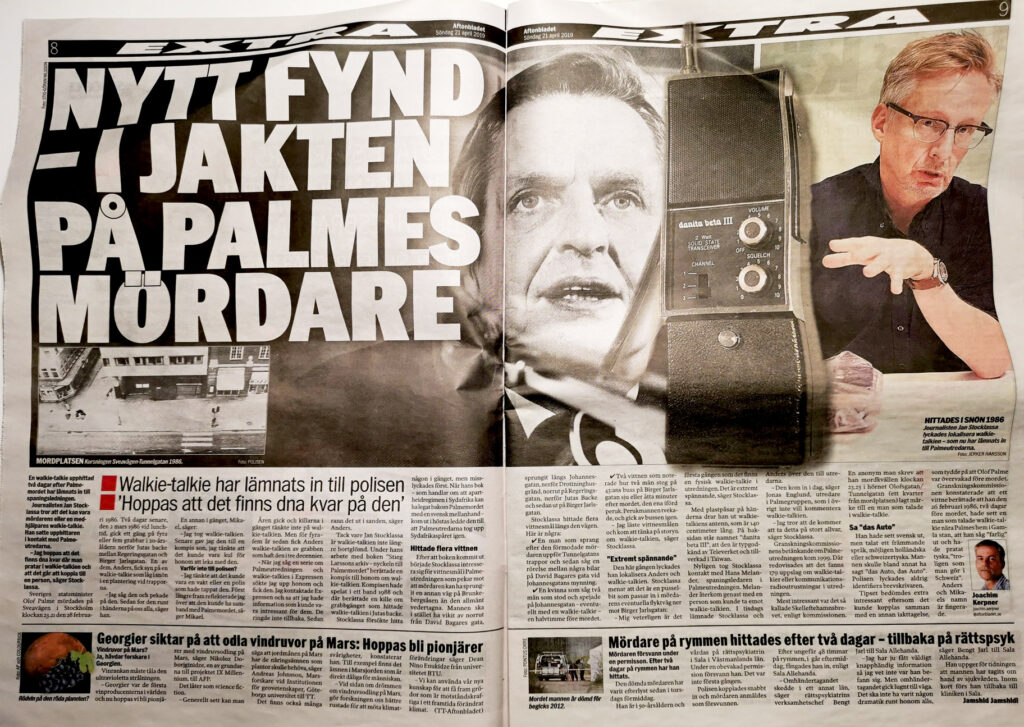 Sweden's largest daily Aftonbladet published the sensational news as a 2-page spread on 21 April, 2019.